Wild Forest Live in China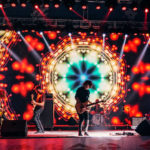 Danish rock band Wild Forest has been busy this summer touring both nationwide and in China.
In a blend of ambient folk, melodic rock and trembling energy both Danish and Chinese audiences have been taken by storm. The band's debut EP is set for release early December with the 1st single, 'Sparks' out now.
Danish Radio and blogs around the world are paying attention to Wild Forest and this summer Australian veterans, Midnight Oil, chose the Danish band as their opening act.
"The guitar solo is back! Everyone's doing it; War on Drugs, Wild Forest. Everyone! And I love it! "
– Casper Bach Hegstrup, DR P6 Beat radio host and jury member of DR's Karrierekanonen